Lacey over at Wild About Teaching reached 500 followers! Her blog is absolutely adorbs and she's got all sorts of goodies to share. Plus she is have one WILD giveaway... you must check it out!
Meanwhile, I am working on a writing bulletin board set that will address the 3rd grade common core and will be interactive for students. I am trying to enjoy every second of my summer and
force
my self to stop working so much but I think that as teachers it is just in us to keep thinking and creating!!
Right now I am waiting for our school to be cleaned. We are supposed to steer clear of our classrooms until they are clean from tippy top to toppy bottom. Tough to do, I must say. Until then though, I have been gathering all sorts of owl decor...
Ms. Durbin over at 3rd Grades a Hoot has all sorts of Hootin stuff for free and for sale. Here are just a few things from her brilliance that I will be putting into my room this year!
Get yours for free from her teacher's pay teachers store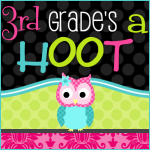 She also has a classroom owls pack, owl tags, a sign and writing bulletin bard and word wall letters. Get yours here ---> http://www.teacherspayteachers.com/Product/Owl-Classroom-Decor
Middle Grades Maven also has cutesie pie Owl Theme Classroom Jobs! Get yours here --> http://www.teacherspayteachers.com/Product/Owl-Themed-Classroom-Jobs
Gee I cannot wait to get started! Here are a few other pictures that have inspired me!